Pool Information
The swimming pool features a zero-entry shallow end with fountains, 2-story water slide with interchangeable water features and a diving board.
Normandy Estates swimming pool is open from May 27 - September 4 for Open Swim. Beginning August 15th, Normandy Pool open swim hours will change to weekend hours only (in accordance with the Jefferson County school schedule).
Daily Visitor Rate: $8/person (children 2 & under are free)
| | | | | | | | |
| --- | --- | --- | --- | --- | --- | --- | --- |
| Pool Hours | M | T | W | Th | F | Sa | Su |
| Open (lap swim 1st hr) | 11 | 11 | 11 | 11 | 11 | 11 | 11 |
| Close | 7 | 7 | 7 | 8 | 8 | 8 | 7 |
Swim Team Practice: 6:30 a.m. - 9:30 a.m.
Swimming Lessons: 10:00 a.m. - 11:00 a.m. (June Only)
Holiday Hours: Open swim 10am-8pm (Memorial Day, July 4, & Labor Day)
Zero entry/ Toddler area: open during lap swim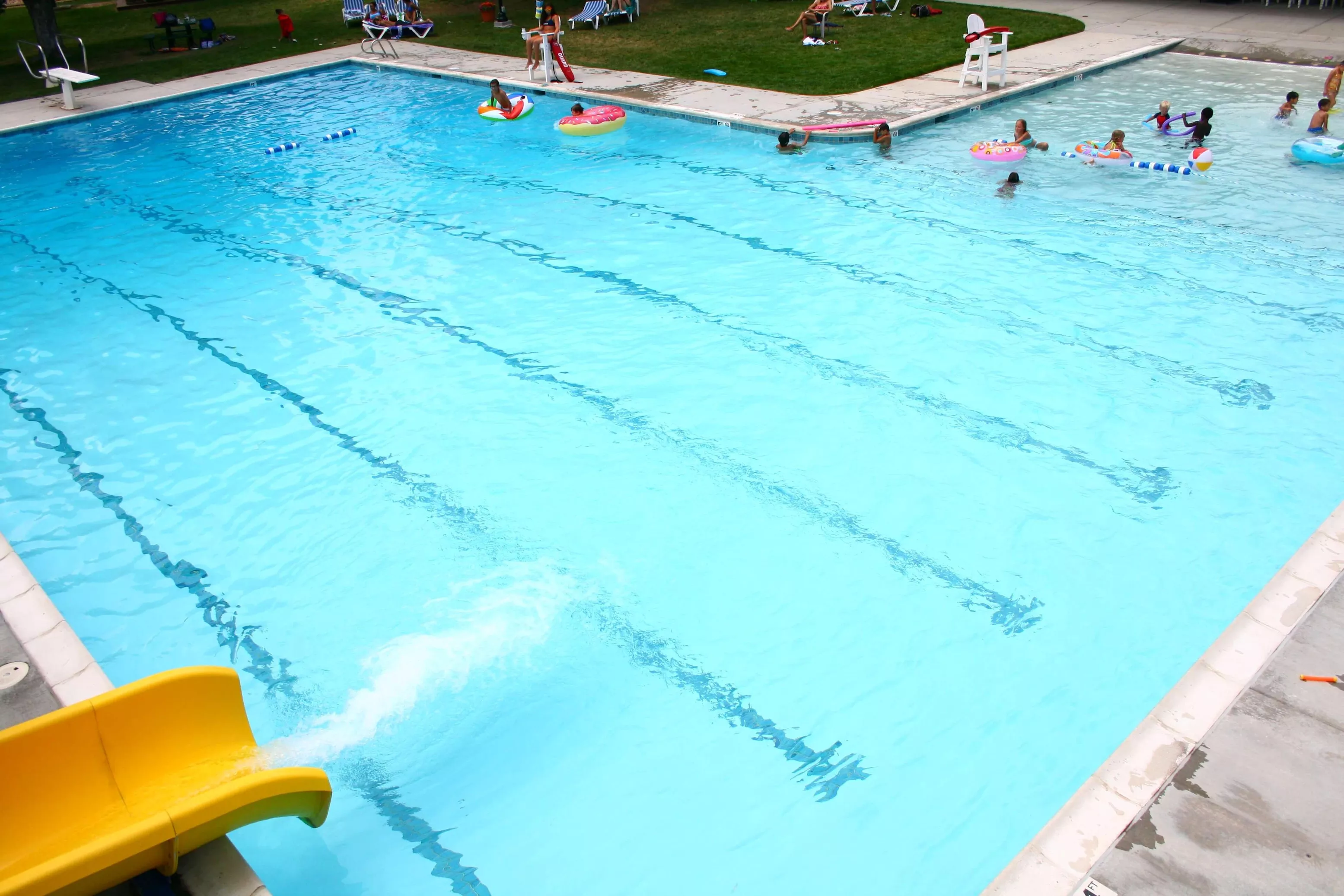 Membership also includes year-round activities such as: family nights, holiday events and members-only events. You can pay online or download the membership form and mail it in with your check.
Membership includes five (5) guest passes for the season
Pool access during pool hours/open swim
Access to four tennis courts (on a first-come, first-served basis, when not in use by leagues or lessons)
Access to member only activities
Reduced rental rates for private events (pool, pavilions and clubhouse rentals)
2023 Normandy Estates Swimming Lesson program.
This year we will offer four sessions of swimming lessons. The dates for the sessions are as follows:
Session I: June 6-8
Session II: June 13-15
Session III: June 20-22
Session IV: June 27-29
Each session will run for one week, with classes being held from Tuesday through Thursday. Fridays will be reserved for make-up days if the classes are cancelled due to inclement weather, instructor illness, holiday, or any other unforeseen circumstance. Classes are ½ hour in length with class times being 10:00-10:30 a.m. and 10:30-11:00 a.m.

Exact class offerings for each session will vary based on demand. Class size is limited to 8 participants when there is one instructor and 12 participants when there are two instructors. Register early as classes fill up fast. Classes may be cancelled if there are not enough participants registered ahead of time.

Lesson fees are $30.00/child per session for members and $40.00/child per session for non-members. Registration begins on May 27, 2023 at the pool. Please complete the "Swimming Lesson Registration Form" and deliver to the pool during normal operating hours. Payment is due at the time of registration. Make checks payable to All Star Pools.

Our goal is to provide the best possible swimming instruction for all participants. If you have any suggestions or concerns, please contact our instructors at the pool.

Thank You
Swimming Lesson Descriptions
Beginner:    
This class is for youngsters ages 4 and up.  Skills taught include; holding breath underwater, rhythmic breathing, crawl stroke, backstroke, entry/exit to and from shallow water, and personal safety skills.
  
Advanced Beginner (Beginner Prerequisite):  
Skills taught include; improve crawl stroke (especially breathing to the side) and backstroke.  Also taught are the elementary backstroke, and jumping into deep water.
Platte Canyon Swim Team
The Platte Canyon Piranhas Swim Team is one of six teams in the South Jeffco Swim League, along with Governor's Ranch (GvR) Gators, Grant Ranch (GR) Barracudas, Ken Caryl (KC) Lightning, Woodbourne (WW) Wave, and Bear Creek (BC) Bears, all in the southwest suburbs. 
The South Jeffco Swim League is one of four leagues plus independent teams belonging to the Colorado State Summer Club Swimming Association. 
The other three swim leagues are Rocky Mountain Country Club, Foothills, and Metro Swim League. 
PCST rents the pool from the Normandy Estates Metropolitan Recreation District, NEMRD. It is a wonderful pool to use for meets and practice.  Discount memberships are available for paid swim team members.

PCST website:   https://pcpiranhas.swimtopia.com/
SJSL website: https://sjsl.swimtopia.com/
Hours: The pool will be open annually, from Memorial Day through Labor Day. The pool will be open daily, with open swim hours posted at the facility. Once school begins (Jefferson County), the open swim hours will be only on the weekends. The Tennis Courts will be open 24 hours a day, year-round, weather permitting.
Pets: Pets are not allowed on pool grounds or on the tennis courts except for registered service animals. All pets on District property must be leashed. Pet owners must pick up pet waste and dispose of it properly.
Glass Bottles/Containers: No glass bottles or containers are allowed on pool grounds outside the Clubhouse/East/West pavilions.
Alcohol: Use of alcohol within the pool ground is not suggested due to safety. Inappropriate use may result in loss of privileges.
No smoking within pool (fenced) area.
Vehicular Access: Motorized vehicles on any/all NEMRD managed lawn, turf or bicycle/pedestrian pathway is prohibited.
Dumping: It is prohibited to deposit or leave any refuse, trash, landscaping debris, or any other materials on District property.
Property: The District is not responsible for lost, stolen, or damaged items.
Access: The District will offer daily walk up access to the pool during the season. Tennis court access will be restricted to member use through the use of combination code locks.
Pool Rules: Members or walk up guests shall follow the following rules during their use of District pool facilities. Violation of these rules may result in removal or termination of membership. 

All members and guests must check in prior to entry
Proper swimwear is required for pool usage
Swearing or abusive language will not be tolerated.
No hanging on the swim lane ropes.
No food, drink or gum allowed within the pool.
No running, spitting or horseplay on pool grounds
Swim diapers or plastic pants required if not toilet trained.
Guards will clear the pool at their sole discretion for lightning when it is within ten mile within the last half hour and/or health concerns.
No hard objects, such as but not limited to: baseballs, footballs, toys with projectile ability, in the pool.
All slide users must be able to swim proficiently and unassisted at the slide exit.
Slide users must go down slide feet first.
One person at a time on the diving board and slide
A swim test may be required to swim in the deep end of the pool or to use the diving board.
No swimming or use of a floatation device allowed in the diving area
Swimmers are requested to exit the deep end (diving board area) by the ladder (north/south sides).
No double bouncing on the diving board
Flippers, floatation devices, are not allowed on the diving board. Walking on deck with flippers is a safety concern and will not be allowed. 
Parents/Guardian of children who are not proficient swimmers must keep watch of their children, in the water, including the shallow area and zero entry. Must be within arm's reach of children at all times.
Flotation devices: including but not limited to: water wings, inner tubes, large floats and similar, maybe restricted during periods of open swim due to crowds. Please check with lifeguard before bringing into the pool.
Non-proficient swimmers may use a floatation device (water wings or inner tubes) ONLY if a competent swimmer/adult is within arm's length of the child in shallow area.
Mermaid tails are not permitted in pool.
Zero entry is for small children and parents/guardians monitoring young children, older proficient swimmers are asked to not play in this area.
Personal tents/shade structures are allowed but must be 20 feet from sidewalk to avoid blocking view from pool.
Members and guests are expected to follow any verbal instructions given by the lifeguards and/or additional posted signs and warnings.

Tennis Rules: Tennis court users shall follow the following rules during their use of District tennis facilities. Violation of these rules may result in removal or termination of membership.

Tennis court usage is limited to District members.
Tennis courts are available on a first come/first served basis, except during posted league matches, junior matches or lessons.
No bikes, rollerblades or skateboards are allowed on the tennis courts at any time.
Tennis shoes and proper attire are required.

Membership: The District Board shall have the right to determine the categories of membership for users of District facilities, the fees paid annually for each category, the rights and obligations of membership, and the circumstances for termination of membership